Learn how to connect your SalonScale app to the bluetooth scale.
---
Q: How do I connect my SalonScale scale to the app?
A: Your app will automatically pair to the SalonScale Bluetooth scale. If you are having trouble connecting, please follow the IOS or Android videos or select the step-by-step instructions below.
Bluetooth Scale with iOS
Click here for step-by-step instructions for iOS
Bluetooth Scale with Android
Click here for step-by-step instructions for Android
Q: I'm having trouble with my bluetooth scale, such as inaccuracy, lagging or not connecting.
A: Here are a few troubleshooting tips:
1. First, make sure your scale is on a hard, flat surface (not wet!)
2. Change the batteries.
3. Try recalibrating your scale. To do this, turn your scale on and press onto the scale with your hand, then release.
4. Restart your phone.
5. Delete and then re-add the SalonScale mobile app.
6. If you have multiple bluetooth scales in your salon, try taking the batteries out of the extra scales.
7. Try turning the phone's bluetooth off and back on.
8. Check your tare preferences.
Click "Profile" in the bottom right corner, then click "Settings".
Automatic Tare turned ON: The scale will display the total weight of all products for each session and the app will display the individual weight of each product.
Automatic Tare turned OFF: The app and scale will both show the individual weight of each product. Ensure you are pressing the "tare" button on the scale between each product poured.
9. Is the bluetooth scale connected to your app? First, review the instructions listed at the links above. If you're still having trouble, check the bluetooth icon on your scale. It should be solid if it's connected. If it's flashing, that means it is not connected. If it's flashing, pretend as though you are making a session on your SalonScale mobile app. When you get to this screen, note the description above the products and measurements.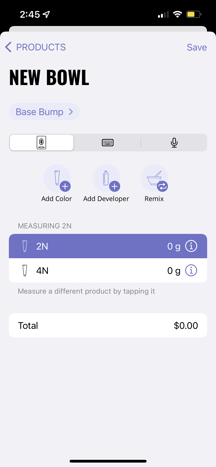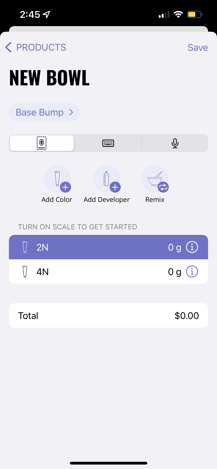 If your scale is connected it will say "Measuring" above the products. If it says "Turn on your scale to get started", this means it's not connected. Turn off your scale and turn it back on and try again.
If you are still having issues, reach out to us at info@salonscale.com and include your app and phone version, as well as a description of what is occurring. Screenshots or videos are also appreciated!